Happy Accidents
15/05/2012
I sometimes think I produce my best work when there's some external limitation. It can be something as straightforward as a deadline when I need to finish work for an exhibition. On Saturday it was the colours I was using …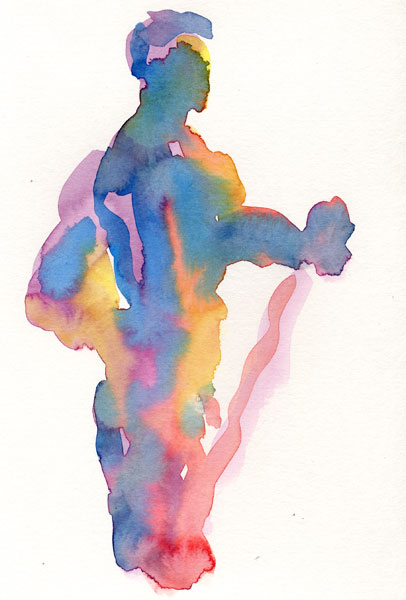 This comes indirectly from my experiments with colour mixing. I've more or less decided on the palette of colours I want to use for my watercolours. I have been using tube colours in my studio and pans outside. It's easier for me to switch to the new palette using the tube colours – there's half-a-dozen colours I've already got in tubes but not in pans and I don't have to face the confusion of a box of pans half of which I'm using up and won't replace (as it is my box already has a mass of colours I no longer use).
I already have a nice folding metal palette with wells round the edge which I've been using for paint from tubes. Up to now I haven't been arranging the colours in any order. However, if I'm going to primarily use tubes outside the studio, I'll need to arrange the colours in a fixed order. Now I could just wash away the colours that are already there, but that strikes me as wasteful. So last Saturday I decided I was going to use them up.
As I said there were some limitations – I didn't have any earth colours apart from yellow ochre and soon ran out of greens. Also some of the colours were pretty strong so I couldn't hold back. Anyway, I'm not unhappy with the results.